Our 2 main services are mobile websites and SMS text message marketing. If you require info on any other services please contact us by calling our office at: (858) 836-1763
Mobile Websites
Our mobile website service includes the creation of the actual mobile website, redirection script so mobile viewers will be redirected to your mobile optimized website and uploading of everything.
Price: Starting at $597 

SMS Text Message Marketing
Our text message marketing service offers a self service backend where you can send a message to your list whenever you want. We will consult with you in creating an optimal campaign and get you all set up. We will also create an eye-catching flyer that you can post around your business to get subscribers to your list fast.
We have three packages to choose from.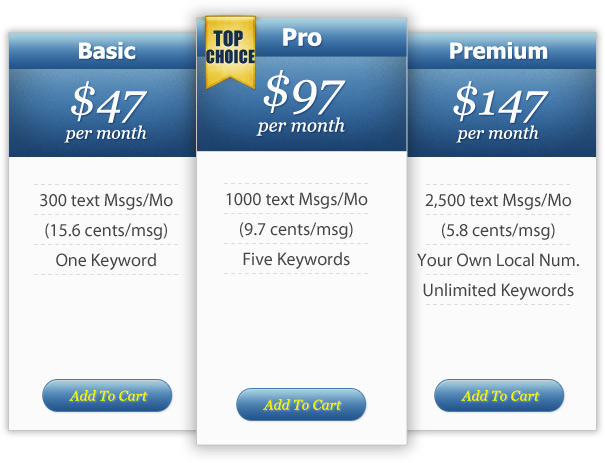 There's a one-time setup fee of $97 for whichever package you choose.  You can also purchase additional messages in blocks of 1,000 for $45 (4.5 cents per message) whenever you need more credits.
After you've made payment, please allow up to 48 hours for us to contact with your account details.  We ususally have your account ready within 48 to 72 hours of you signing up.
If you have any questions, feel free to call us at: (858) 836-1763